Podium Deck
Often used over undercover car parks to retail and residential buildings, usually uninsulated.
Concrete deck primed with Permatec Primer
2 coats of Permatec Ecowrap incorporating Permaflash-R reinforcement
Permaguard-F protection layer
Pavers/concrete slabs on paving supports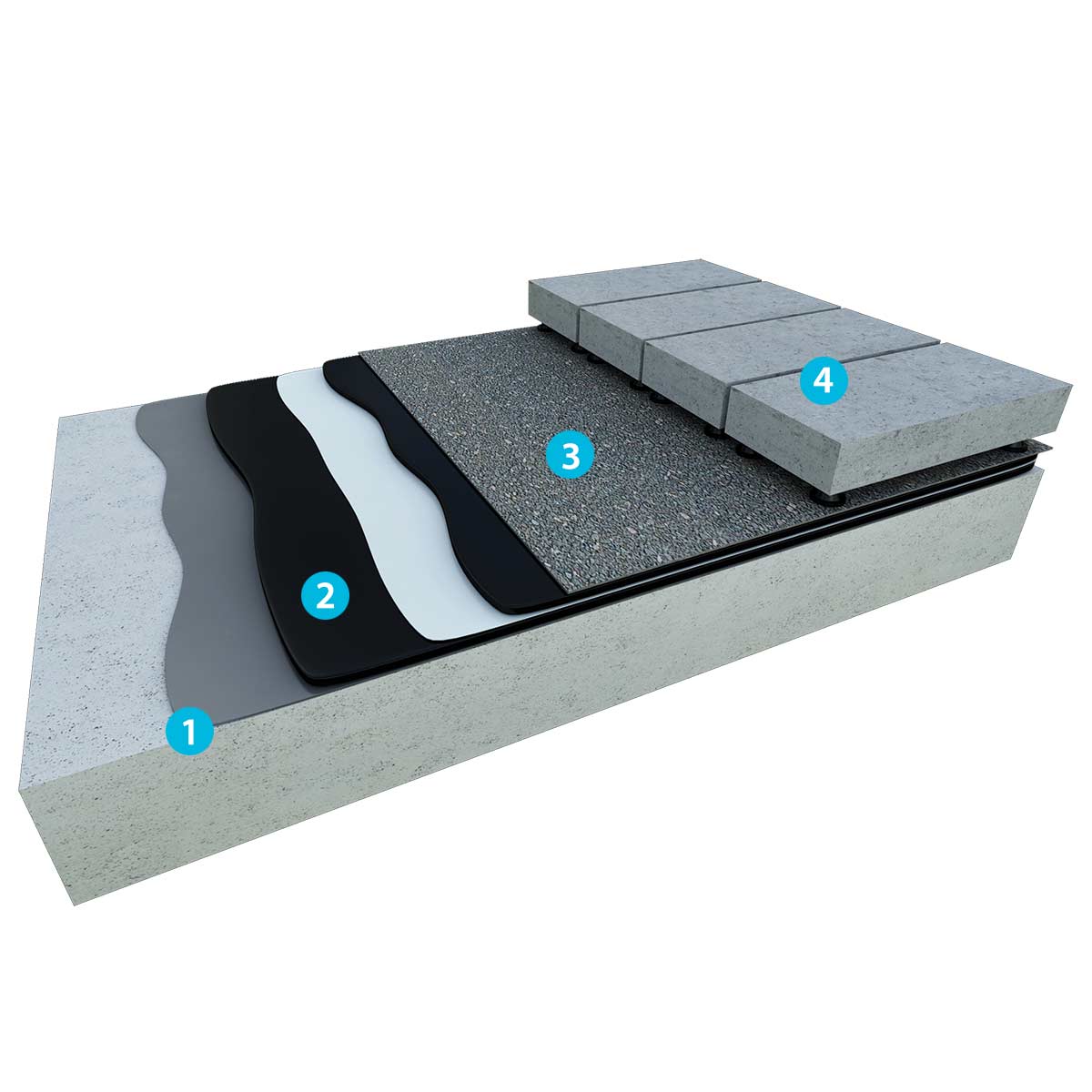 Substrate preparation
The surface of the substrate (usually concrete) should be suitably prepared to accept the Permatec fully bonded system. Joints, cracks or interfaces between different substrate materials should be detailed in accordance with Permatec Standard Drawings and Masterspec 4414AP specification.
Membrane
Using a suitable spreader or squeegee, the first coat of hot Permatec compound is applied to the prepared substrate at a nominal coat thickness of 3mm. The Permaflash-R polyester reinforcement is brushed into the Permatec compound whilst it is still hot. All laps in the Permaflash-R should be at least 75mm wide and fully sealed with the Permatec compound. The second coat is applied in the same manner ensuring complete coverage of Permaflash-R at the nominal coating thickness of 3mm. The second coat of Permatec must be protected.
Protection
Permaguard-M slate surfaced bitumen membrane is used on exposed upstand details. It is applied to the second coat of Permatec by controlled torch application. Laps in Permaguard-M to be minimum 75mm and fully sealed.
Permaguard-HDPB (Heavy Duty) or Permaguard-PB protection boards can be used to provide additional protection to the waterproofing system. They are installed butt-jointed to the second coat of Permatec compound. Joints are taped over with 75mm reinforced adhesive tape.
Note: The use of a drainage layer in podium deck design is highly recommended, as it provides important lateral drainage whilst also preventing the sand and cement bedding from becoming saturated.
Detailing
Rainwater outlets and penetrations in the roof waterproofing system should be detailed in accordance with Permatec Standard Drawings and Masterspec 4414AP specification.
System components
A standard Permatec podium deck system will include a range of system components including: drainage layer to suit loading, sand and cement bedding or paver supports and pedestrian paving.
Asphaltech
Podium Deck Masterspec Documents
Asphaltech
Podium Deck Technical Documents
Asphaltech
Podium Deck Drawings